April 30, 2022
Posted by:

admin

Category:

Blog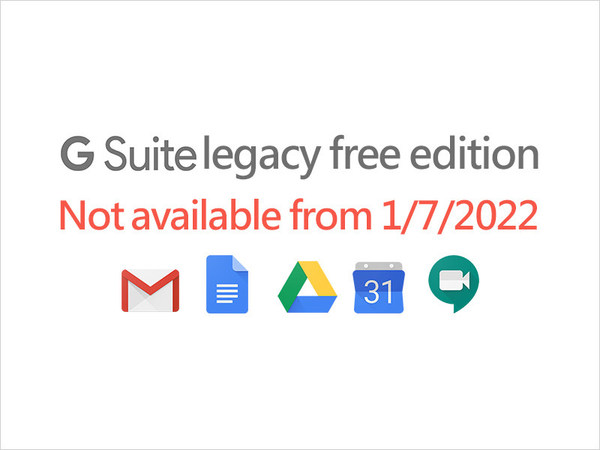 Prior to December 6, 2012, Google offered a free edition of G Suite—also known as the legacy free edition of Google Apps—that had a reduced set of business features. As of December 6, 2012, Google stopped offering the free edition to new customers. The Terms of Service for the G Suite legacy free edition can be found here.
The G Suite legacy free edition will no longer be available starting June 1, 2022*. If you have the G Suite legacy free edition, you can choose one of these options:
(Recommended) Upgrade now to the paid Google Workspace subscription that meets your needs and take advantage of special discounts. Upgrading does not affect your data or service availability. Learn how to upgrade from the legacy free edition.
Join the waiting list for a no-cost option without the premium features of using Gmail with your custom domain (for example, your-name@example.com) and the ability to manage multiple users. Learn about this option
Qualifying educational institutions have the option to migrate to a free edition, Google Workspace for Education Fundamentals, without service disruption.
If you don't choose one of these options, Google will seamlessly transition you to Google Workspace starting June 1, 2022. To complete the transition and avoid account suspension, enter your billing details in your Admin Console before August 1, 2022, when charges will begin.
Learn more about the transition to Google Workspace.
* We previously announced we'd begin upgrading subscriptions on May 1, 2022. To give you more time to transition or join the waiting list for a no-cost option, we'll now begin upgrading subscriptions on June 1, 2022 and require you set up billing by August 1, 2022 to avoid account suspension.
Unlock premium features with Google Workspace
By upgrading to Google Workspace, you'll unlock 24/7 support and access to other premium collaboration and security features, based on the edition you choose.
Business Starter
Business Standard
Enterprise Standard
Choose your Google Workspace subscription
Google Workspace includes all core services available in the G Suite legacy free edition, such as Gmail, Drive, Calendar, Meet, and Chat. When choosing which Google Workspace edition to upgrade to, we recommend you consider these factors:
Number of users—Google Workspace Business editions can have up to 300 users. For more than 300 users, you'll need to upgrade to an Enterprise edition. If you have more than 20 users and need help identifying an upgrade path that best suits your needs, please contact Google Workspace Sales.
Features you currently use—Make sure you choose an edition that includes the features you rely on today.
Features you'd like to use in the future—Are there features you'd like to add that you aren't using now?
Billing—If you self-upgrade to Google Workspace, you'll receive your first invoice at the beginning of September 2022 for your August charges. Learn more at Understand Google Workspace bills and charges. If you work directly with a Google Sales representative to upgrade, your charges start immediately.
The tables below provide examples of premium features to help you choose the best option for your needs.
Usage and Support
*Current limit is 10; it was previously unlimited.
**Requires 5 or more users (1 TB if 4 or fewer users).
Communication
Collaboration
Security and administration

Compare more features | Go to pricing
Google Workspace for Education free and paid editions
If you are a qualifying educational institution, you can remain on a free subscription by transitioning to Google Workspace for Education Fundamentals. With this transition, you will incur no additional expenses and no disruption to your service. Education Fundamentals will remain free for qualifying educational institutions.
To upgrade your educational institution to Google Workspace for Education Fundamentals, go to Get started with Google Workspace for Education.
Google Workspace for nonprofits
You might be eligible to upgrade to a Nonprofits edition. If you're already using this edition at no cost, you can continue doing so without any change to your service.
If you want to upgrade Gsuite account or Buy another Email account, contact us: +91 9354116732, or Mail us: info@speora.com